Intro
Stephen had picked up an interesting brochure at the hotel the other day, all about the "Sentier des Toblerones", or the "Toblerones Trail".
This looked both interesting and easy.
Interesting because of the following explanation from the brochure:
The "Toblerone" footpath was so named because of the Toblerone-shaped fortifications build during World War II. The concrete "toblerones" form a 10-kilometer line from the foot of the Jura mountains down to Lake Geneva. This path winds its way through a succession of natural beauty spots, following a stream lined by trees, thereby ensuring the preservation of an area of natural interest.
Here are the toblerones that we saw today: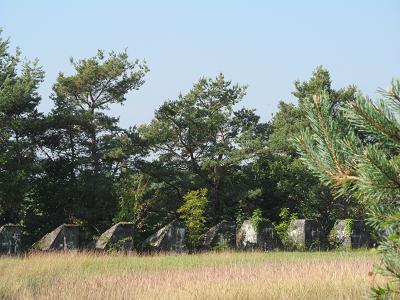 We had seen similar ones on a trip to Germany several years ago, and knew of them as "Dragon's Teeth". They are supposed to be able to prevent tanks from entering.
Those who are interested in this history could check out either the Toblerone Line on Wikipedia or the main Toblerones Line websites.
Back to the brochure, which includes this map. The red lines are the Toblerones Trail. The bottom part is about 10 kms from our hotel.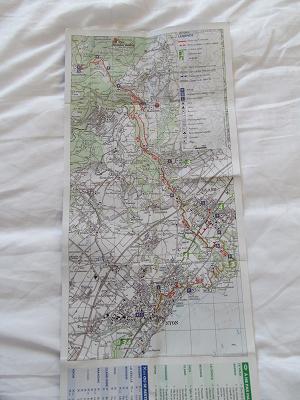 It's a long trail, so we decided to walk a small section of it, one near the bottom (south) of the map. We parked at the P near the left, and walked to the right. Driving through the town to get to the parking lot was just a bit hairy! Those streets are NARROW!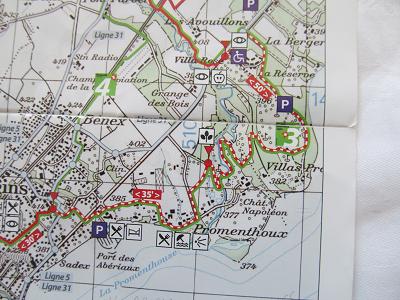 Our plan was to walk the trail for about 4 kms and then turn around. I figured that I was capable of doing an 8 km walk.