Biel
Our drive from Zurich featured a lot of rain and a lot of traffic. It took us a couple of hours. According to Google Maps, ideally it would take 1:20.
This shot from Google Maps shows Switzerland and our route: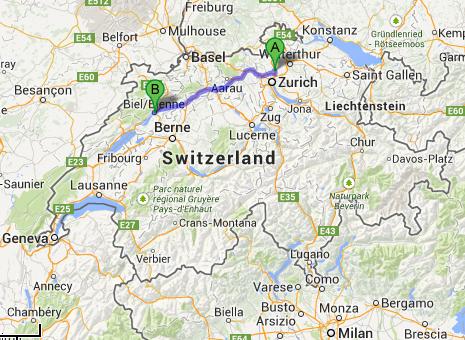 And this shot from Google Maps shows Biel and its lake. I think we're going to try for a boat tour tomorrow.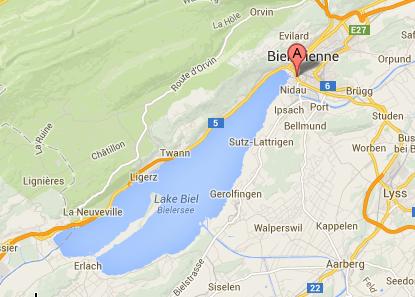 We got to the hotel at 9am. We could check in at 3 pm. That left 6 hours for us to use productively, difficult given that we hadn't slept all that well on the plane - we dozed, but never did hit deep sleep.
So I asked for an idea for walking around. The desk clerk suggested a walk along the Bahnhofstrasse, aka Rue de la Gare, aka Railway Avenue. If we walked far enough, we would get to the Old Town. It turned out that today was the farmers market, right where we were walking! Very cool! Lots of stuff, edible, decor, apparel, or adornment.
There was one interesting conversation that I had. I was looking for some apples, and eventually found some. The farmer/grocer had overheard us talking, and spoke in English to us. He asked me if I was speaking German English or English English. I was a bit puzzled by that, so I said it was Canadian English. But he really wanted to know my origins. I told him that I was a bit of both, with a German mother and an English father. He then commented that he could tell from my face that I was German - and he also identified some Irish in Stephen. Very strange!
Anyway, here are some photos from our walk today.
Near the beginning of our walk, we came upon this mass of bicycles. It appears that there is going to be a used bike sale by members of a biking club here. There are a LOT a bicycles here. Stephen was, of course, curious!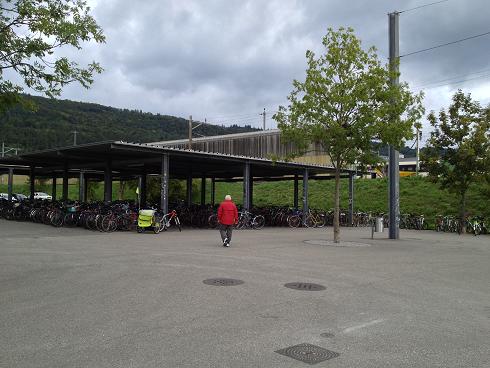 Stephen with a statue, and a closeup of the statue.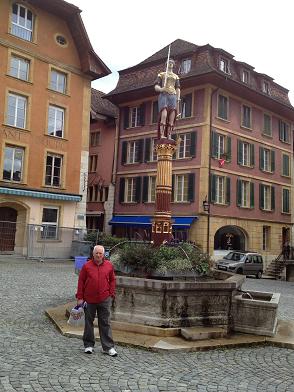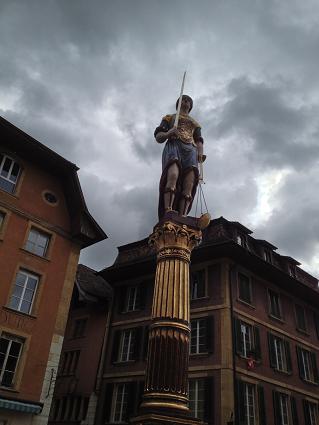 Words on a house.
Dies Haus ist mein und doch nicht mein
Dem's vor mir war, war's auch nicht sein
Er ging hinaus, ich ging hinein
Nach meinem Tod wird's auch so sein
OK, for those who are not into German, here is what Google Translate says about it, with a little help from me:
This house is mine, and not mine
To him it was in front of me, it was not to be
He went out, I went in
After my death it will also be.
Hmmm - these Swiss can be a bit mysterious!
Another old building, built originally in 1582, and refurbished in 1915 (and, according to the placard, a few times since then as well). I think it has been a theatre.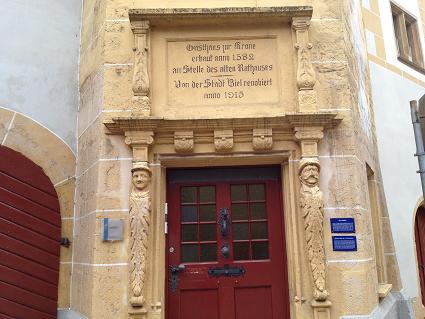 A church tower.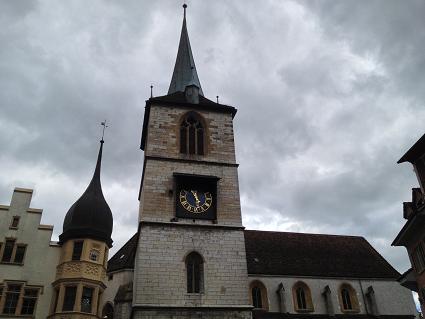 A statue in front of the church.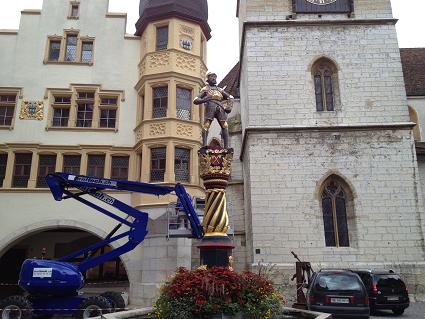 A funky statue sitting on the side of a reasonably modern building.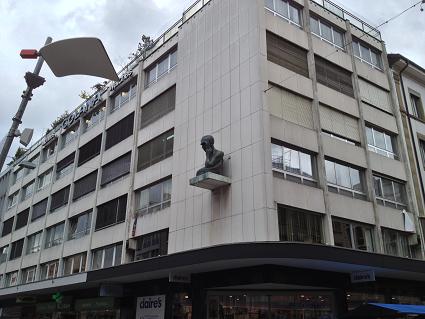 Views from our balcony. That pile driver has been going quite steadily, especially when I was sitting in the car in the parking lot behind the hotel trying to get a bit of a catnap while waiting for check-in time.